Regular price
$302.00 USD
Sale price
$302.00 USD
Regular price
$463.00 USD
SAVE $161.00
Unit price
per
or make 4 interest-free payments of
$75.50
fortnightly with
More info
Make 3 payments of $100.66. No fees.
Current delivery time is 1-2 days
- 1x Detachable Bar
- 1x Padded Exercise Belt
- 5x HIIT-X Bands (90KG Combined Resistance)
- 2x Ultra Strong Handles
- 2x Leg Straps
- 1x Door Anchor
- Access to the Gymproluxe community
View full details
GYMPROLUXE All In One Portable Gym
AS FEATURED IN


"A top quality set of resistance bands"

"The best resistance band we've ever tested."

"What can't you do with this gym set?"

"Who wouldn't want one of these?"
THE LAST WORKOUT KIT YOU'LL EVER NEED.

Over 150+ gym Quality Workouts
From bench press & seated rows to hip thrust & squats the All in one portable gym allows you to get results at home or on the go and saving you money in the process!

Up To 90KG/200LBS Of Resistance
Feel and own a total body workout with plenty of resistance. Resistance bands give you many benefits like constant tension, resistance on more planes of movement, and linear variable resistance.
As range of motion increases so does the tension. You simply don't get that with free weights.  

Lightweight & Portable
Perfect for travel or simply to take with you on the go. The all-in-one portable gym only weighs 4KG.

More cost-effective than the alternatives
Ever seen some of those full-scale body workout machines that can cost thousands? Gymproluxe can replace that, take up less space and save you money in the process.
Over 150+ Gym Quality Exercies
GYMPROLUXE replaces thousands of £'s
of gym equipment making working out more convenient and easy.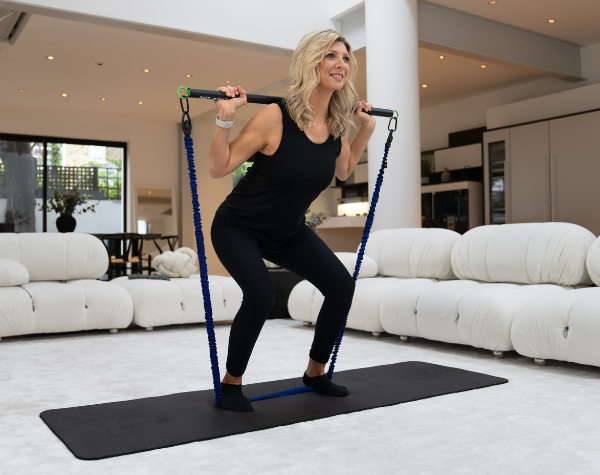 Squats
Targets the Glutes & Quads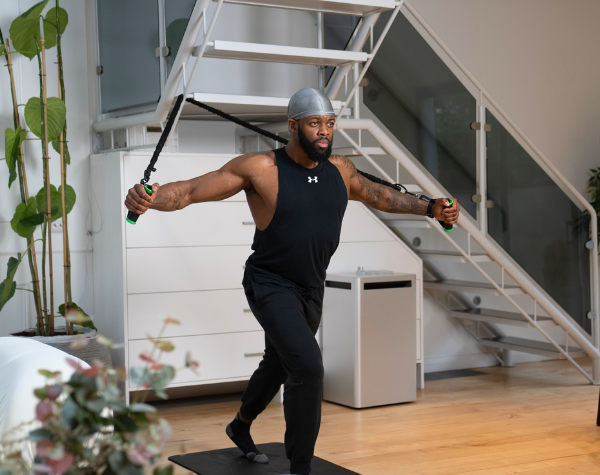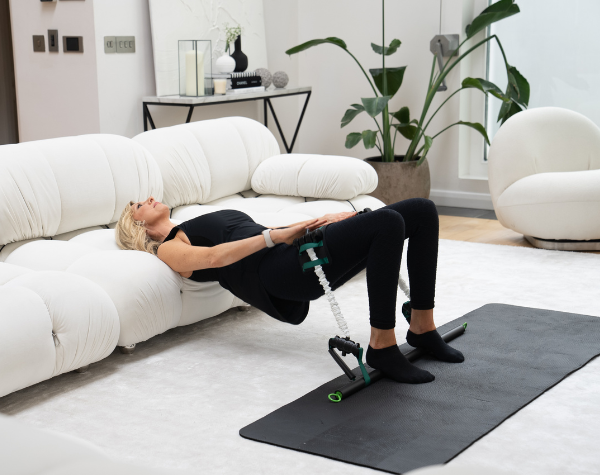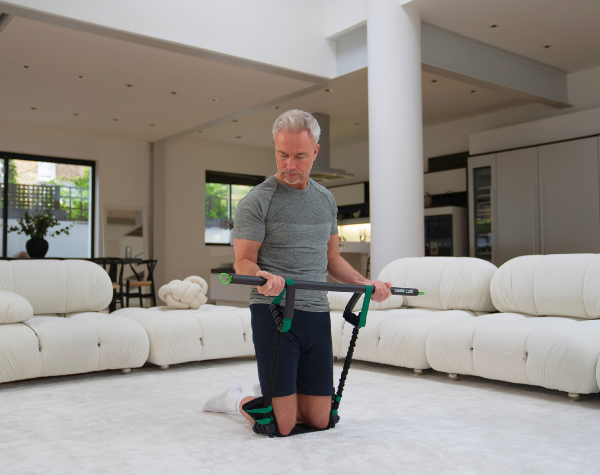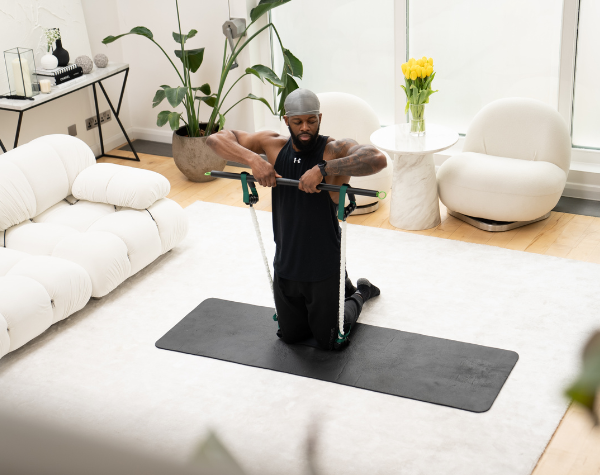 Upright Rows
Targets the Traps & Biceps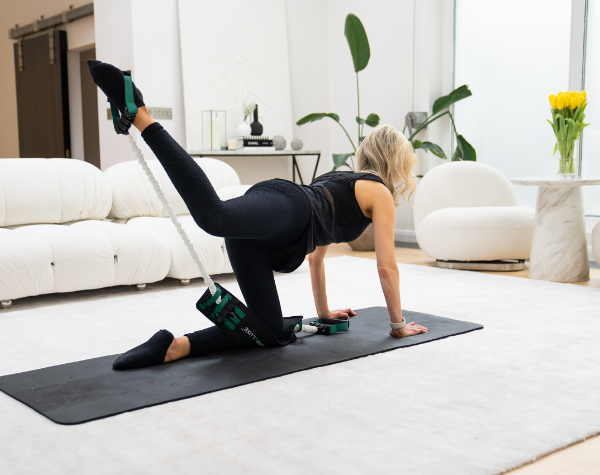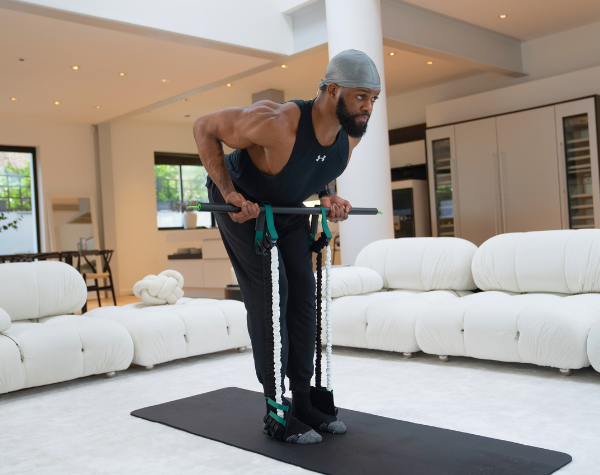 Bent Over Row
Targets the mid Lats & Biceps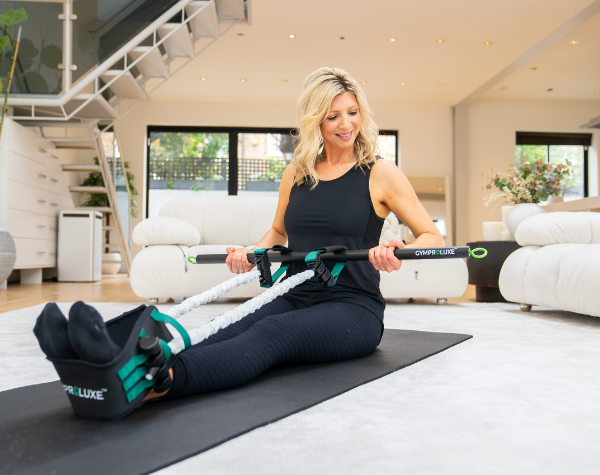 Seated Row
Targets the mid Lats & Biceps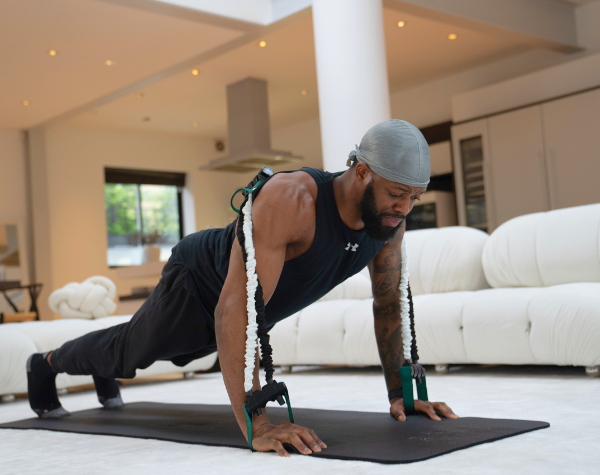 Weighted Pushups
Targets the Pectorals & Triceps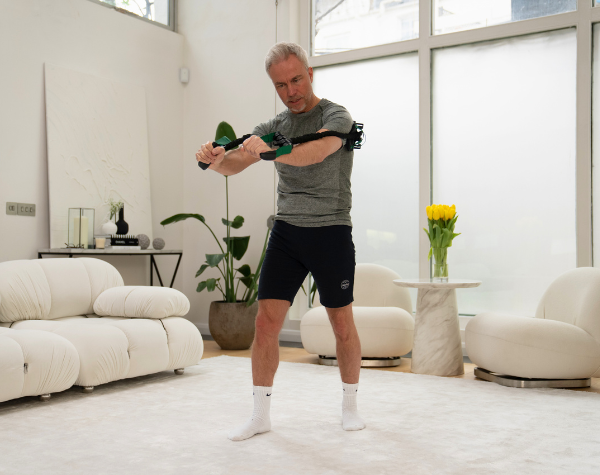 How does GYMPROLUXE Compare?
| | GYMPROLUXE | HEAVY GYM EQIPIMENT |
| --- | --- | --- |
| Builds muscle & strength | | |
| Gym quality workout | | |
| Lightweight and portable | | |
| One device, multiple workouts | | |
| Workout anytime, anywhere | | |
| Easy storage | | |
| | | |
Why Is GYMPROLUXE More Powerful Than Weights?
You are cutting your gains short. Static weights overload the joints and underload the muscle.
Your body is 7 times stronger at full extension in the impact-ready positions than in the joint-compromised starting positions.
GYMPROLUXE provides greatly varied resistance through each movement, enabling you to recruit more muscle, produce higher HGH levels, and drive Greater Gains.
More Resistance Where Your Body is Stronger

Less Risk of Injury Than Traditional Weights

Easier On the Joints, Harder on the Muscle

Complete Muscle Fatigue for Greater Gains
Frequently Asked Questions
What makes Gym Pro Luxe better than others?
Gym Pro Luxe is an all-in-one portable gym that promotes a full-body workout in just 20 minutes a day! Unlike other brands, Gym Pro Luxe is made using only high-end, premium material, including "layered latex" bands that won't wear down and become weak. 

Plus, when you get Gym Pro Luxe right now, we're going to over-deliver and give you MORE bang for your buck so you can begin to experience positive body composition results faster, and without having to get additional bands or unnecessary add-ons. 

There's no added risk to you by ordering today. You are protected by our 100%, 30-day money-back guarantee.
How soon will I notice positive results?
Many of our customers have noticed positive body composition results, including more muscle growth and less excess fat, in as little as 30 days—some even see a difference in their look and feel in as little as 14 days of consistent use! However, this does not take into account diet, daily habits, and proper nutrition.

But what we can say is that with consistent use of Gym Pro Luxe, you can begin to feel and see a noticeable change in your overall health within 30 days of purchase or we'll return your money without hassle.
No. Our Gym Pro Luxe is an all-in-one portable gym made for men and women of all shapes and sizes. However, if you do struggle for whatever reason, email our team and we'll see how to best assist, and ensure you get the most effective workout possible.
How can I tell I'm progressing while using Gym Pro Luxe?
First, for every exercise, you're going to start with the lowest band. That includes beginners and pro-lifters. Once you're able to do 40 slow, controlled reps (2 to 3 seconds per rep), then you know you've hit your "max" for that band and can move up to the next band weight. 

Continue to progress with each band for each exercise and see your body change right before your eyes!
What if I don't know where to start?
No worries! Every purchase of Gym Pro Luxe comes with a step-by-step guide on all of the main exercises that can help jumpstart your weight loss journey and get you on track fast... no trainer required!
Yes! Gym Pro Luxe and the use of resistance training is extremely safe and is even praised for its ability to put less strain on joints while at the same time increasing overall muscle growth and improving bone density.
How long does delivery take?
UK delivery takes 2-3 days to arrive via Royal Mail.
GOES GREAT WITH...
Everything you need to maximize your workout